I AM OPENING ON WOLFE ISLAND - MARTELLO ALLEY.
Wendy have a nice choice of my pottery at Martello Alley on King st Kingston

My little Red Studio is located on the corner of Road 95 and Reed Bay on Wolfe island.
I will have tables outside Thursday to Saturday (11-5)
For more infos,call me or text me at(613)888-2456 or by email at isabelladuc@gmail.com

Thank you!
Isabella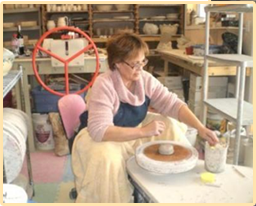 HOME
The windmill of provence pottery
I fell in love with pottery early in my life and I continue to learn and be inspired through my work. My stoneware is functional and decorative Each piece is painted free-hand. It is an everyday pottery that can go into the dishwasher and microwave.
I have made various collections through the years and my work shows my Provencal background.
This year, my first collection is MONACO with yellow and blue colors.
My second collection is VENICE with white and blue colors.
My third collection is POPPIES that you will find very colorful with the little poppies.